FMS08 Heat Shock Cellulite Remove weight lose Machine
FMS08 Heat Shock Cellulite Remove weight lose Machine

Application:

--Reducing facial wrinkles.

--Reduces excess fat in a variety of body areas.

--Can be used to treat all areas of the face and body.

--Tightens the skin.

--When you are not qualified for or do not want surgical face lift.

--Signs of neck/brow/eyelid sagging.


overview:
What is Cellulite?




In females, there is a very superficial layer of fat just under the skin. If and when the level and size of fat increase within this layer, it bulges out giving the infamous lumpy appearance that we all know (but do not love!).

To make matters worse, as we age, our skin thins and the resistance to the underlying fat bulging out is gradually reduced.




In addition to the increased fat and lowered resistance to it over time, the fibrous strands in the dermal layer (the skin's next, thicker layer of elastic tissue) become more fibrous and twisted which pulls down, producing the dimples in the skin.




As these fatty compartments increase in pressure within, they decrease the ability of the lymphatic systems to drain away lymph fluid (a fluid containing infection-fighting white blood cells), so this static fluid adds to the swelling in the area. This also decreases healthy blood circulation in the affected area.



What Causes Cellulitis?

Some of the factors that lead to the formation of cellulite are underlying causes which are part of your genetic make-up and in large we cannot change these factors. However, these genetic causes lead to actual structural changes in our skin and it is these structural changes that can be remedied to reduce the appearance of cellulite – and without laser treatment or surgery.




Hormones play an important role in cellulite development. Oestrogen, thyroid hormones and prolactin all play a part in the cellulite production process. As oestrogen decreases in women as they head towards menopause, blood flow is reduced to the areas of connective tissue in the dermal layers. Low circulation means less oxygenation and a reduction in collagen production. Also, as oestrogen levels diminish, fat cells become larger.




It's these combined physiological factors: larger fat deposits, lower collagen levels and decreased circulation, that lead to and cause visible cellulite. And it is these factors that can be rectified with the CR-B991 application to reduce the appearance of cellulite.



The Solution: Cellulite Reduction



The FMS08 Treatment is a combined cellulite reduction treatment. It employs the clinically proven technologies of radiofrequency and targeted pressure energy combined to address all the five causes of cellulite




Both radiofrequency and targeted pressure energy are proven to increase the production of collagen, increasing the skin's elasticity.




In many studies, radiofrequency has been proven effective in cellulite treatment by producing a controlled tissue temperature elevation which increases the body's production of collagen and elastin. It is this increase that increases the skins strength and elasticity.




By reducing the number of fatty deposits in the area, the pressure on the connective strands are released and the fibrous structures relax to reduce the tension creating the dimple




The heat and shock wave applied in the cellulite-affected area for around 10 minutes increases microcirculation of the blood and removes some of the static lymph fluid from the area.




It is a painless, safe and effective treatment.



What is this machine?

FMS08 represents the world's most advanced Shockwave RF and Ultrasound technology for shaping, tightening and cellulite reduction.

How does it work?

1. Simultaneous delivery of Focused RF and Ultrasound energy with variable surface cooling delivers precise volumetric heating of tissue for wrinkles, laxity, cellulite and body contouring.

2. The system's heating process is very smooth due to simultaneous exposure to monopolar RF-based energy and high-frequency ultrasound.

3. Ultrasound element allows the unit's RF energy to heat the tissue faster, easier and more effectively.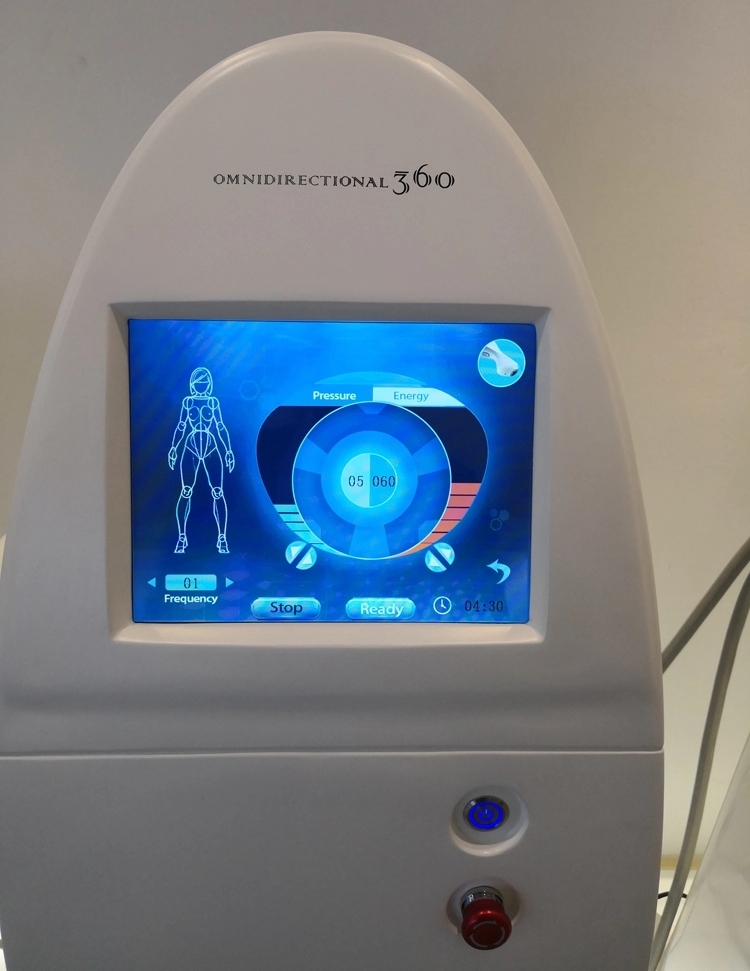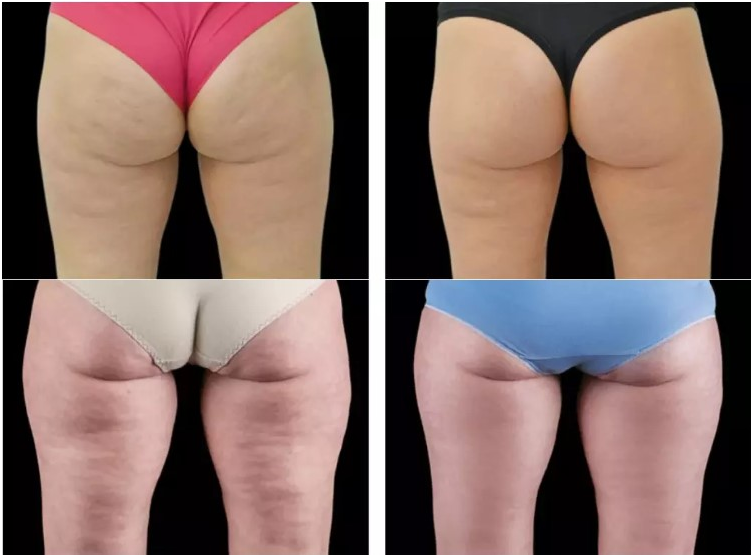 Treatment Advantages:

1.The only device that treats all 5 causes of cellulite with immediately visible results.

2. Therapy is no limited skin type-everybody is a candidate.

3. A combination of powerful thermal and mechanical energy allows treating all kinds and grades of cellulite.

4.Non-surgical treatment,no blooding,tiny traumatic,high safety.

5. Non-invasive, no downtime so you can carry on with everyday life right after a treatment session.

Machine Advantage:

1. The latest technology, combine RF and Shockwave for the best treatment.

2. High power for body and face treatment, make sure sufficient energy deliver to the target issues.

3. Built-in cooling system, no need adding water to the machine, which prevents impurities from entering the system.

4. The best machine so far for skin tightening and cellulite removal.

5. Shockwave doing body slimming, at the same time achieve pain relief and improve blood circulation.

Functions
1.Deep radio frequency

Deeply uniform heating, energy directly to the fat layer

Stimulate collage to grow

restoring the skin elasticity and tightening

Eliminate thick fat tissue

Smooth bump texture



2.shock wave

Stubborn fat particles at the bottom of the impact fat

promote collagen growth

Repair fascia tissue

Increase blood flow supply

Eliminate cellulite and stretch marks



3.metabolic waste accumulation

Fascia tissue tightening

cellulite

Fibrosis fat accumulate cellulite mark

Calcified skin

fat tissue is supported, skin restores elasticity and firmness

Blood circulation, muscle metabolism rate

Rapid fat analysis



Details:


2 in 1 design RF & ultrasound

Non-touching, Non-invasive, No surgery, No downtime;

Safty: Skin temperatures are controlled throughout the entire session for utmost safety;
Painless: Controlled heating and cooling ensure that energy is delivered to various depths in the tissue without pain;
Effective: A simultaneous delivery of RF and ultrasound provides patients with a more clinically effective treatment;
comfortable: Patients none discomfort can literally resume exercising or return to work immediately post the therapy;
Significant effect: Patients in many clinical studies have reported outstanding outcomes in body shaping and tightening;
Accurate: The unique EFC™ (Energy Flow Control) ensures the optimal level of power is delivered to the target tissue at all times;
Flexible operation: Changing power and cooling during treatment allows the operator to treat deep tissue all the way up to the superficial layer.


Specification:



Product Name: Heat Shock Cellulite Remove weight lose Machine

Voltage: 110V-220V,

Working Principle: Radio Frequency and Shock Wave

Energy:120

Shock wave pressure:16

Frequency:10Mhz

Packing Size:62*50*120cm

Gross Weight:55KG
Type:

slimming machine
Feature:

Skin Tightening, Lightening, Cellulite Reduction, Weight Loss
Operation System:

High Frequency
Place of Origin:

Guangdong, China
Brand Name:

FOMIS
Model Number:

FMS08
Application:

For Commercial
Style:

Vertical
Technology:

Shockwave+RF
Warranty:

12 Months
Material:

ABS
Voltage:

110V/220V 50-60Hz
Power:

300W
Frequency:

500KHZ
Package Size:

60*48.5*128.5cm
Color:

White
Logo service:

Support

Your cart is currently empty.